Eastwood
Made for the One-Button Game competition,

Gamma IV

, Eastwood is a fighting game in which two players face off against each other as the legendary actor Clint Eastwood.

Moves are performed by pressing, mashing, holding, or not touching your button.
Controls:

[ Player 1: Spacebar Player 2: R.Control ]

Press - Single Strike
Mash - Flurry of Strikes
Hold - Block
Hold for 2s - Dash/Evade
Release for 2s - Heavy Strike

Powered by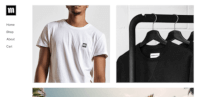 Create your own unique website with customizable templates.